This risotto puts lightly buttered asparagus and golden mushrooms front and center as the star of the show. A perfect weeknight or date night dinner with no fuss, this creamy and easy vegetarian risotto recipe is perfect for 2. It all comes together in about 30 minutes or just under if you pick up your mushrooms pre-chopped and your asparagus already trimmed.
Asparagus risotto is one of the easiest (and fastest) versions to make. No, you don't need an Italian grandma to show you how it's done. What you need are generous piles of golden sauteed mushrooms, tender but with a hint of bite delicate spears of asparagus and cheese. Lot's o'cheese. Or less cheese, if that's your thing.
I'll walk you through the perfect risotto recipe and all the tips and tricks as well as the perfect variety of rice to buy to make sure that you nail this recipe and it lands squarely on your dinner table 10099994456 more times before the end of summer.
---
Creamy Mushroom Asparagus Risotto
Like this recipe? Pin it to your Dinner or Sides pinboard!
Follow Salted Mint on Pinterest
---

How to Make the Perfect Asparagus Risotto
These tips go for all risotto recipes and you can use them anytime you need a quick dinner that's all about flavor and no fuss. In my 10+ years as a restaurant chef, I've made 1000's of pounds of risotto and these tips are the tried and true methods that fancy restaurant kitchens use. And I'm giving all my secrets to you!
Choose arborio or carnaroli rice varieties. The shape of them allows the liquid to absorb and gives the traditional creamy velvety risotto texture.
Don't wash your rice before cooking. When the rice is rinsed it washes away the starch and that's what helps to give risotto it's smooth creamy texture.
Keep your risotto on a low barely simmering heat and add the stock a ladleful at a time, making sure that the liquid is absorbed before adding more. There have been debates about slowly adding the stock not being necessary and that you can just add it all at once, but I still find that adding it a little at a time really does add to the creamy texture of the rice.
Don't leave your risotto unattended. It needs to have the liquid added frequently and you don't want it sticking to the bottom of the pan. Besides, it only takes about 18 minutes of actual cooking time. Think of it as a nice chance to slow down.
Adding all your stock at once, or adding too much stock will lead to the risotto being stodgy and overcooked. You're looking for rice that's plump and tender on the outside, but has a tiny bit of bite on the inside. Risotto is really all about the texture.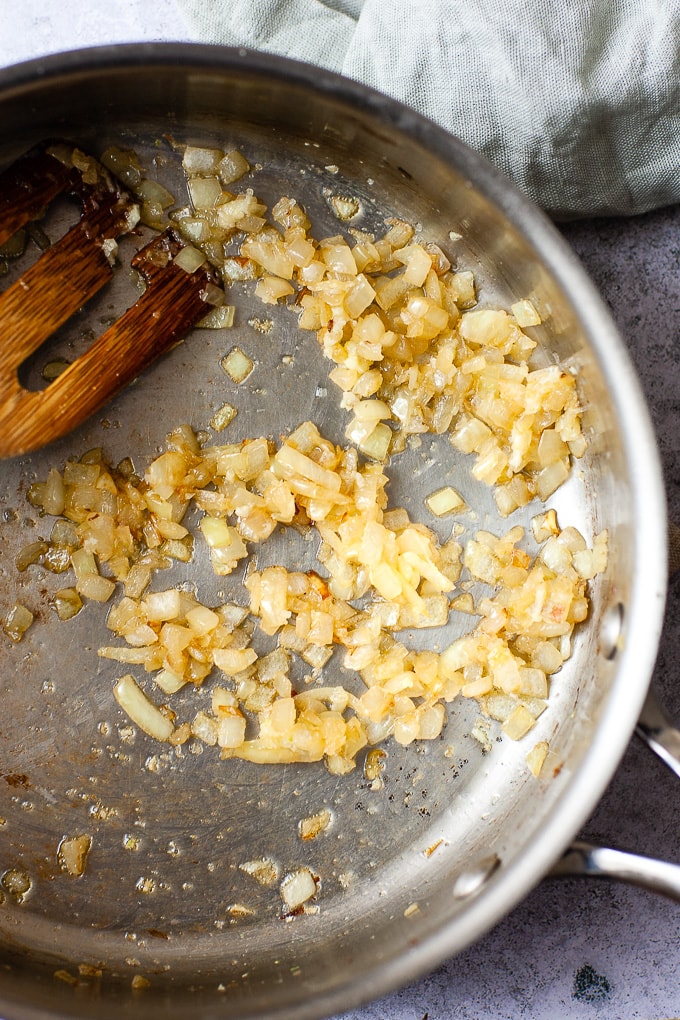 Easy Creamy Risotto FAQ's
Should you fry the rice before adding the stock? When you fry the rice it does impart a nice nuttiness, but you sacrifice some of that creamy texture due to the outside of the rice developing a bit of a crust. I'm personally not convinced about frying the rice first. And if you'd like a nutty flavor than adding mushrooms like this recipe are the perfect way to do that.
Should you add the veggies all at once? Depends on the veggies. I know. You wanted a straight up yes or no answer, but it's not that simple. If you're making a pea and lemon risotto then sure. Add 'em all in. If you're making this mushroom asparagus risotto I say no. Cook the asparagus separate in a pan with some butter along with browning the mushrooms. There are certain veggies that really benefit from sauteeing to bring out their flavor, asparagus and mushrooms being some of them.
What is the perfect liquid to rice ratio for risotto? 3:1 liquid to rice. That ratio will ensure that you get perfect creamy risotto with that not too hard bite in the middle. The kind of texture that will keep you going back for seconds and thirds.
Start with the aromatics
Butter or vegetable oil (I use a little of both)
Onions or shallots (I prefer the milder taste of a shallot, but onions are perfectly acceptable)
White wine or not (If I have it I use it. If not, no big deal) If I don't have wine I'll add some lemon zest to make sure that I get a flavor list from the acid.
Stock is a personal choice as well as one dependant on the style of risotto. For example, if you're making a seafood risotto then you could use shellfish stock or if making this asparagus mushroom version, then vegetable broth is perfect. Chicken broth is usually my default option when I make most risotto unless I intend to keep it veggie.
Notes on texture, consistency, and flavor
It's only in the final moments of cooking should you be adding the cheese, extra olive oil or butter, and creme fraiche or mascarpone if using. The last few minutes are about achieving the trifecta of the perfect texture, flavor, and consistency. I'd also add temperature to this list. A risotto that's too hot is really unappealing and too cold it's like stodgy porridge.
The perfect texture is always creamy and smooth. The perfect consistency is almost pourable, and the perfect flavor is personal, but I like mine with the nuttiness from the parmesan with a slight bite from the acid of a lemon or a splash of wine.
Now that you've got the basics, you can feel free to add or subtract anything you want knowing that you've got the basics of a creamy, salty, lemony, lip-smacking risotto down to a T. Because, the hero of all weeknights is risotto, everything else is just an add-on... literally.
Need More Asparagus Recipes
Tools used to make this Asparagus Risotto
Mushroom Asparagus Risotto
This risotto puts lightly buttered asparagus and golden mushrooms front and center as the star of the show. A perfect weeknight or date night dinner with no fuss, this creamy and easy vegetarian risotto recipe is perfect for 2.
Print
Pin
Rate
Ingredients
1

cup

arborio rice Risotto

2

tablespoons

olive oil

1

tablespoon

butter

½

cup

white wine or zest of 1 lemon

3

cups

vegetable broth

1

clove

garlic

minced

2

shallots

finely diced (or use an onion)

1

cup

parmesan cheese

use vegetarian

½

cup

mascarpone or

full fat creme fraiche (optional)
For the mushrooms & asparagus
½

pound

brown mushrooms

thickly sliced

1

tablespoon

butter

3

tablespoons

olive oil

1

bunch Asparagus

trimmed* See notes

3

eggs

soft boiled, optional
Instructions
To sauté the mushrooms heat a nonstick frying pan over a medium high heat for 3 minutes. Add the olive oil and butter and heat until the butter starts to foam slightly. About 1 minute. Add the mushrooms in an even layer and sauté until they are golden. Remove from the pan and place on a plate. Add the asparagus spears to the hot pan and sauté until they are just tender. About 3 minutes. Remove to the same plate as the mushrooms, while you make the risotto.

In a large saucepan over a medium heat add the olive oil and butter. Once the butter and oil are warm add the shallot and garlic and sweat until translucent and soft. Add the rice and stir to coat the rice in the butter and olive oil, but not fry. Pour in the white wine and add the stock a ladle full at a time and only add more once the previous stock has been absorbed. Continue to stir until all the stock has been added and the rice is soft and plump with a slight bite in the middle. Add the parmesan and mascarpone if using and stir in gently until the cheese is melted and fully incorporated.

To serve divide the risotto between bowls and top with the asparagus and mushrooms. Place a soft boiled egg on the side for extra luxury.
Notes
Notes- To trim asparagus gently snap off the woody bottoms of the spears and trim the ends with a sharp knife to keep them even. If your spears are very long, cut them into short spears reserving the tops for the top of the risotto.
Nutrition
Serving:
250
g
|
Calories:
425
kcal
|
Carbohydrates:
40
g
|
Protein:
40
g
|
Fat:
92
g
|
Saturated Fat:
38
g
|
Cholesterol:
366
mg
|
Sodium:
2451
mg
|
Potassium:
847
mg
|
Fiber:
4
g
|
Sugar:
8
g
|
Vitamin A:
2695
IU
|
Vitamin C:
2.9
mg
|
Calcium:
743
mg
|
Iron:
7
mg
THANKS SO MUCH FOR READING AND COOKING ALONG WITH ME! IF YOU MAKE THIS RECIPE OR HAVE A QUESTION, I'D LOVE IT IF YOU LEFT A COMMENT AND A RATING. YOU CAN ALSO FOLLOW ALONG ON PINTEREST, FACEBOOK AND INSTAGRAM TO SEE WHAT WE'RE EATING, PINNING AND A LITTLE BEHIND THE SCENES TOO!