These slow cooker beer-braised beef short ribs are a cozy fall off the bone winter classic. Perfect for leading into the weekend. Tender, melting beef, dark microbrew ale mixed with spices and the savory beef stock is the perfect winter warmer. They're a no maintenance dinner that is perfect for freezing ahead of a busy week.
Because it's the beginning of January and it's most likely freezing cold where you are, I'm bringing you healthy, easy slow cooker beef short ribs. They are one of my favorite slow meats to cook. They like it low and slow, and pretty much hands-off cooking. So, that means they're perfect for any night.
Now, a lot of slow cookers tell you to toss everything in, set the timer and walk away. Well... that's not quite the case with these slow cooker beer-braised beef short ribs. They require you to do a little bit of up-front work, but the dividends at the end make this one of the tastiest investments of your time. Besides, sometimes "no effort" cooking is just kinda boring. Good food is a beautiful investment of your time and energy. And it's so worth it when you're feeding the people you love the most.
We need to start these short ribs right. You want ribs with lots of meat on them and a nice marbling of fat. Don't worry, it's the good paleo kind of fat. Season them well. Beef loves to stand up to a bold and robust flavor, so now is not the time to go easy on anything. But the main thing to focus on at this stage is color. See below? Deep, dark, golden brown color. It's the building block to great flavor.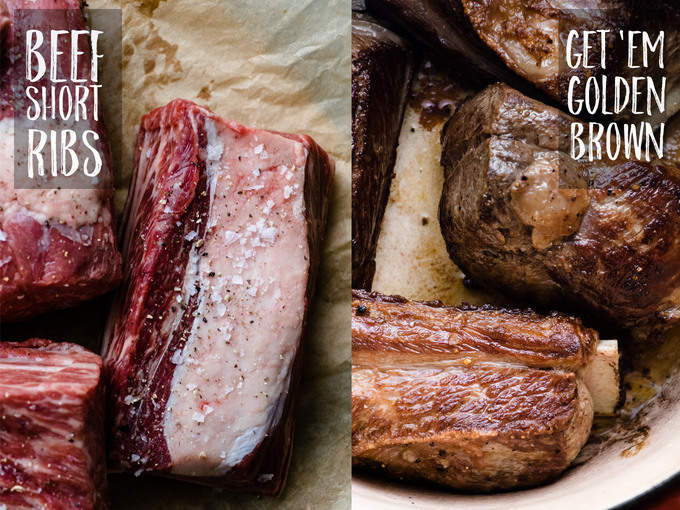 Why are searing and color so important when cooking beef?
So glad you asked. I'm just gonna nerd out for one sec... it's called the Maillard effect. It's a chemical reaction between amino acids and reducing sugar. But you don't need to know all that nitty-gritty. What you need to know about this brown, caramelized beef situation, is that you need to get the pan hot (285f), so that searing takes place. That's what accounts for that deep, rich flavor when you eat seared beef. Whatever you do, do not skip (or rush) this step. Honestly, it only takes about 10 minutes to sear these short ribs properly. You definitely have 10 minutes to ensure a delicious result.
The Maillard effect is also at work when you brown any meat and vegetables. So, let your food color and take some care to make sure you start with hot pans, warm oil, and pre-heated ovens. These steps will ensure you have a head start with kitchen success. Promise.
How do I deglaze the pan when cooking beef short ribs?
Another awesome question. Usually, the obvious thing to do would be to toss in the beer and scrape all those lovely brown bits off the bottom of the pan. And normally that would be a great way to go. However, this recipe has some onions that are gonna do all the work. When those pungent onions get added to the hot pot, they instantly start to release their moisture. You can even give them a hand by adding a pinch of sea salt. Not only does that season the onions, but the salt is hydroscopic, which means it draws moisture out of the onions, too. So once the onions start to sweat, that liquid that ends up in the bottom of the pan can be used to help scrape those lovely brown bits off the pan too. Please don't ever skip deglazing. It's so important to your cooking and to flavor.
And then beer... You really can use any beer, but a deep, dark ale works best, here. If you can find a nice craft brewery that would be so awesome, if not Guinness is a great way to go. And once you've added that beer you can kick back and relax for a few hours while that slow cooker does its job!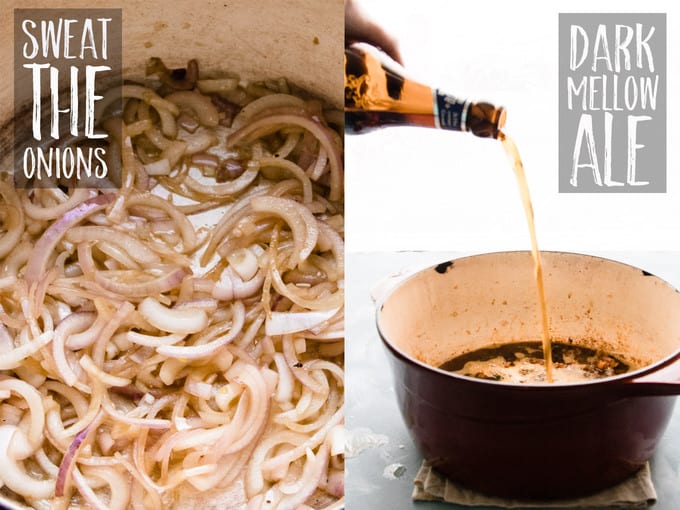 So, I'm just gonna say sorry for getting a little wordy and a little science-y about food today. But the more we're armed with the useful information in the kitchen, the more pleasurable the results and the the process of cooking. In a time where we are consuming more food content than ever, we seem to be cooking less.
Let's change that. Starting with this recipe. PS. These beer-braised short ribs are perfect served with roasted garlic mashed potatoes.
Slow Cooker Beer Braised Short Ribs
These slow cooker beer braised beef short ribs are a cozy fall off the bone winter classic. Tender, melting beef, dark micro brew ale mixed with spices and savoury beef stock are the perfect winter warmer. They're a no maintenance dinner that is perfect for freezing ahead of a busy week.
Print
Pin
Rate
Ingredients
4

beef short ribs

dried with a kitchen towel to remove all moisture

3

Tablespoons

vegetable oil

2

onions

sliced into half moons

3

cloves

garlic

minced

¼

cup

flour

1

Tablespoon

dry mustard powder

1

Tablespoon

dark brown sugar

½

Tablespoon

smokey paprika

1

bottle dark full flavoured beer

1

heaped soup spoon black strap molasses

1

beef bullion stock cube

diluted in 1 cup boiling water

2

bay leaves

6

sprigs thyme

10

pearl onions

peeled

1

heaped soup spoon honey

optional
Instructions
Heat the oil in a dutch oven over a medium heat. Season with ribs with salt and pepper. When the oil is hot add the ribs and colour on all sides. You're looking for a deep roasted colour.

when the beef is well coloured, remove the ribs from the pan and add the onions and the garlic. Season with some sea salt. As the onions sweat in the pan, the moisture will start to deglaze the pan, rather than add any liquid. Sweat for about 8 minutes until the onions are soft and all the brown bits have lifted off the bottom of the pan.

Add the flour to the pan and mix in with the onions. Cook out the flour for about 4-5 minutes. Add all of your mustard powder, brown sugar and paprika. Pour in your favourite dark beer and bring to a boil.

Once the beer is boiling add the molasses to the pan and place the beef ribs back into the pan. Dilute the beef stock cube in 1 cup of boiling water and add to the pot.

Add the bay leaves and thyme to the pot and cover. Let simmer for about 3 hours on a low heat, or until the beef is tender and you can shred it with a fork. Add the pearl onions to the pot for the last 30 minutes of cooking.
Notes
Cooking times: Slow Cooker Low- 6 Hours Slow Cooker High- 3 Hours Dutch Oven- Slow Burner- 3 Hours If you have a lot of liquid left in the pot, remove the beef and cover it, and turn the heat up and boil to reduce until you have the desired consistency. Taste the sauce and if the beer taste is a bit stronger than you would like, add a soup spoon of honey to tone it down. Serve with roasted garlic mashed potatoes.
Nutrition
Calories:
685
kcal
|
Carbohydrates:
23
g
|
Protein:
80
g
|
Fat:
11
g
|
Saturated Fat:
8
g
|
Sodium:
247
mg
|
Potassium:
227
mg
|
Fiber:
2
g
|
Sugar:
9
g
|
Vitamin A:
500
IU
|
Vitamin C:
12.7
mg
|
Calcium:
40
mg
|
Iron:
1.1
mg