Crispy golden Moroccan oven fried chicken tenders. Fried chicken without the fat. Oven baked then finished with a drop of oil to get that truly fried taste with those oven baked calories. Crispy, golden, and way healthier than fried chicken, with a modern twist.
This is a case of the longest name for the simplest recipe. I just felt like I wanted to let you know all the amazing things about these oven fried chicken tenders before we even got started.
Chicken tenders are one of the staples of busy households, especially households with kids. But we're ditching the pre-made frozen kind and we're opting to make our own. They're healthier, and crispier than anything you can buy. And by making them yourself, you're in charge of the flavour profile.
We're giving these oven fried chicken tenders a modern twist with the use of toasted panko breadcrumbs and Ras El Hanout. It's a fragrant Moroccan spice that's more fragrant than spicy. In fact it's not spicy at all. But if that's you're thing, feel free to add a teaspoon of cayenne or chilli powder.
How to get super crispy oven fried chicken tenders step by step
Step 1- Set out three bowls. One of them you're going to put the flour into. The next one the egg and the last one the panko bread crumbs. Lay the bowls out from left to right so that you're always moving in the same direction and you never miss a step. To avoid the breadcrumbs sticking to your fingers, use your left hand for the wet ingredients and your right hand for the dry.
So, left hand picks up chicken and places it in flour. Right hand picks the chicken up out of the flour and the places it in the egg. Left hand takes chicken out of egg and puts it into the breadcrumbs. Right hand takes the chicken out of the breadcrumbs. This method makes breadcrumbing anything a complete breeze!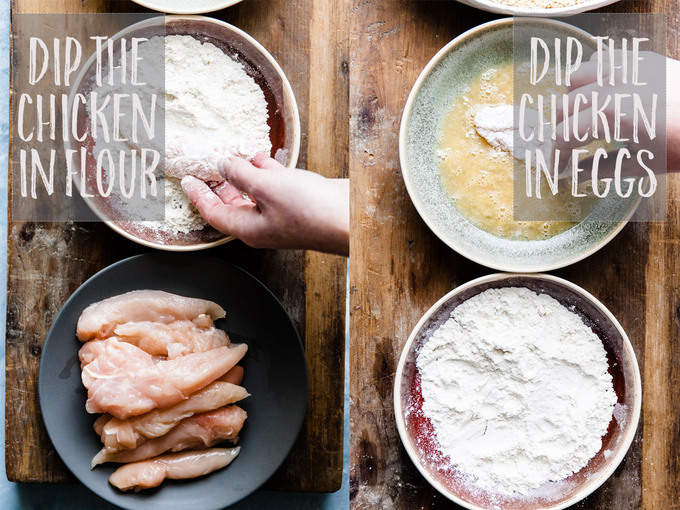 Step 2- Make sure that the chicken is well coated with the panko breadcrumbs. I find that the chicken gets really well coated with one pass through the bread crumbs, but if you want extra super crunch then you can dip again in the egg and once more through the breadcrumbs.
What can you use to coat chicken instead of eggs?
I've seen this question floating around the internet about what you can use instead of eggs. Sometimes you've got all the ingredients for the most amazing oven fried chicken, except the eggs!!! When that happens you can use some buttermilk, or regular milk. You could also try Greek yogurt or even some mayonnaise thinned out with some water. All of these stand ins will work. But they won't quite have the sticking power of eggs, or you may find that they coating feels a bit thick. But, when you've got to get something quick and easy and family friendly on the table, those swaps will be a life saver!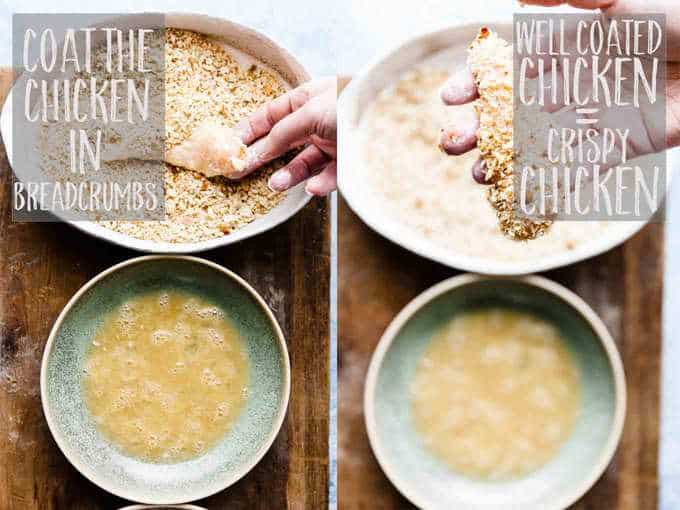 Step 3- Lay the chicken out on a baking tray and bake them for about 20 minutes, or until the chicken is cooked. When chicken is done, heat a non stick skillet over a medium heat and add 2 tablespoons of olive oil. When it's hot, just roll the chicken in the oil and place it bake on the tray to keep warm until you've done all the chicken tenders.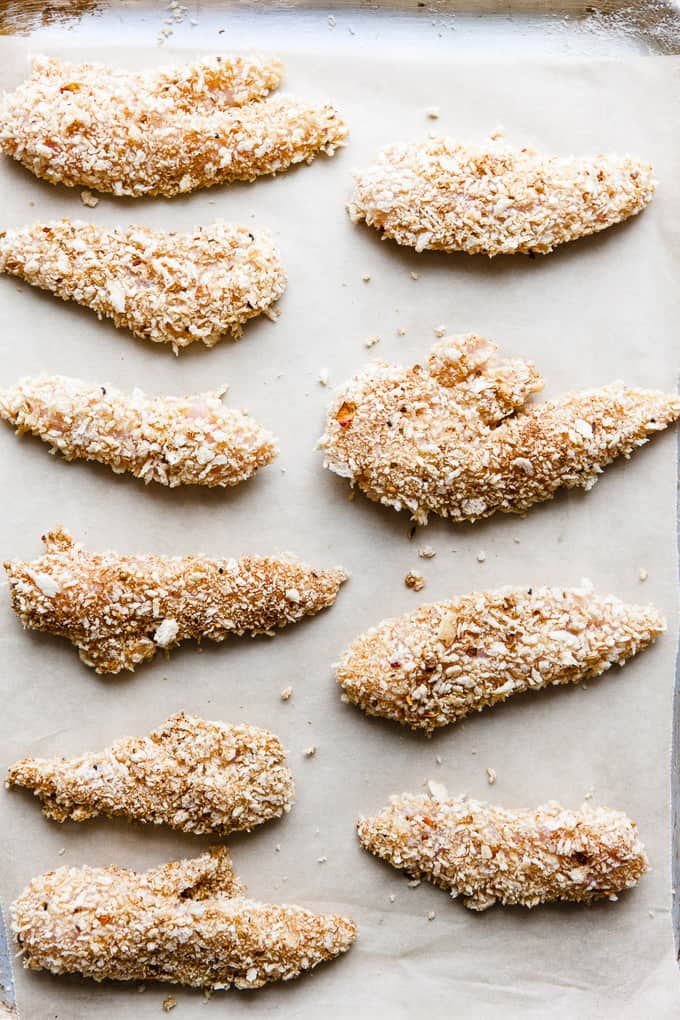 I find that last extra step just gives the tenders a really authentic fried chicken flavour and look. You could of course make this recipe without tossing the tenders in the oil and it would be amazing. I just really feel like that last step is so worth it.
And that's it. To make the dip that goes with this, all you need to do is get all the ingredients into a bowl and whisk. The whole recipe takes no more than 30 minutes, and on a Monday that's exactly what we want!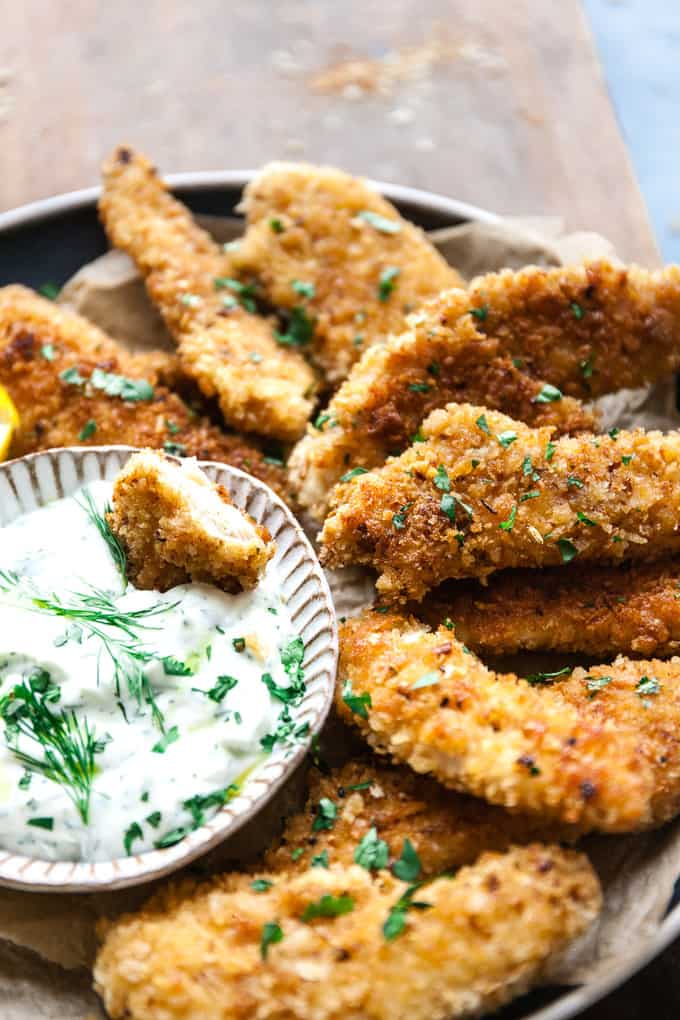 Crispy Golden Moroccan Oven Fried Chicken Tenders with Herby Yogurt Dip
Crispy golden Moroccan oven fried chicken tenders. Fried chicken without the fat. Oven baked then finished with a drop of oil to get that truly fried taste with those oven baked calories. Crispy, golden, and way healthier than fried chicken, with a modern twist.
Print
Pin
Rate
Ingredients
10

chicken tenders or 2 boneless skinless breasts cut into strips

2

large free range eggs

lightly beaten

1

cup

all purpose

plain flour

2

cups

breadcrumbs

2

Tablespoons

Ras el hanout

2

Tablespoons

vegetable oil
For the herby yogurt dip:
1

cup

fat free Greek yogurt

¼

cup

mayonnaise

2

Tablespoons

chopped chives

2

Tablespoons

chopped parsley

2

Tablespoons

chopped cilantro

coriander

2

Tablespoons

chopped dill
Instructions
Pre-heat the oven to 180c or 350f and line a baking tray with greaseproof paper.

Set up three medium mixing bowls or plates. In the first one place the flour. Season with salt and pepper. In the second bowl place the cracked and beaten eggs. In the third bowl place the breadcrumbs and the Ras El Hanout blend. Mix well.

Using one hand (left) place several of the chicken strips into the seasoned flour.

Toss to coat.

Using your left hand again, move the chicken pieces to the egg wash. Coat thoroughly.

Using your right hand this time, move the chicken strips to the breadcrumb mix and coat the pieces well. Using your left hand again, remove the chicken from the breadcrumbs and place on a baking tray.

Once they are baked, remove from the oven and place in a heated nonstick frying pan with the oil.

Just toss for a minute or two to give a golden look to the chicken.

This last step is completely optional, but finishes off the chicken nicely.

For the dip mix all the ingredients together and place in a bowl to serve.

These go really well with crispy sweet potato oven fries.
Nutrition
Calories:
706
kcal
|
Carbohydrates:
70
g
|
Protein:
45
g
|
Fat:
26
g
|
Saturated Fat:
9
g
|
Cholesterol:
170
mg
|
Sodium:
682
mg
|
Potassium:
806
mg
|
Fiber:
6
g
|
Sugar:
5
g
|
Vitamin A:
545
IU
|
Vitamin C:
5
mg
|
Calcium:
298
mg
|
Iron:
7.8
mg