These easy beef fajitas will be a new family classic. Tender and juicy beef steak marinated in a smokey and spicy homemade seasoning. Grilled beef and veggies wrapped in soft tortillas with avocado and lime. This easy beef fajita dinner will be on the table in less than 1 hour!
Monday's are for crowd pleasing, but oh so easy dinners, right? These fajitas will become one of your go-to's. But before we dig into these fajitas lets talk about a few fajitas facts.
Which steak is best for fajitas?
The best steak for fajitas is skirt steak. It's also the cut that's traditionally used in Mexican restaurants. Skirt steak is a usually considered a cheap cut of meat and it's meant to be cooked quickly so that it stays tender. Sear it too long and it's a bit tough and leathery. Not what we're after on easy steak fajita night!
To help keep this steak tender during grilling, it's marinated in a smokey and spicy marinade. When meat is marinated in a mix of acid and sugar it helps to tenderise the proteins and keep that beef tender.
If you can't get skirt steak then use: Minute steaks, Sirloin, rib-eye, or rump steak. All these are very tender when seared and cooked quickly at high heat.
Chef's Pro Tip: This simple fajita marinated has oil added to it, to avoid having to add oil to the grill pan.
This flavour packed, but simple, fajita marinade is a mix of spices that you probably already have in your spice cupboard. And the beauty of this marinade is that it all just gets mixed in a measuring jug to skip any extra dishes! Winner winner fajita dinner? Okay. Maybe that's a bit much. But you know what I'm tryin' to say. EASY!
Olive oil
Cumin
Chilli powder
Brown Sugar
Oregano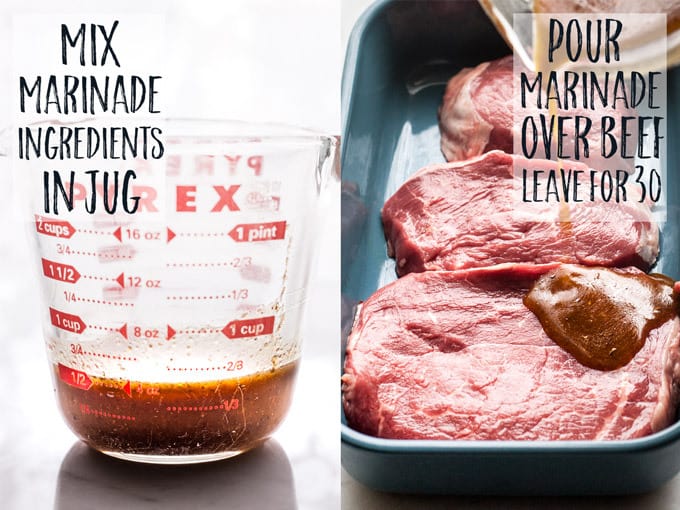 Once this beef is marinating in it's sweet n' smokey bath for 30 minutes we can turn our attention to the veggies! The beauty of this fajita recipe is that everything gets popped in the middle of the table and everyone builds their own fajitas. You know... extra avocado, no chillies, tonnes of cilantro. Whatever you're loving lately. This also means that we can load up those tortillas sky high with grilled veggies! Ah-yeah!
When cooking the veggies for this super duper easy fajita recipe, all the veggies get tossed into a hot pan at the same time. No sweating onions first then adding everything else. Nope. All at the same time, in one big pan. EASY!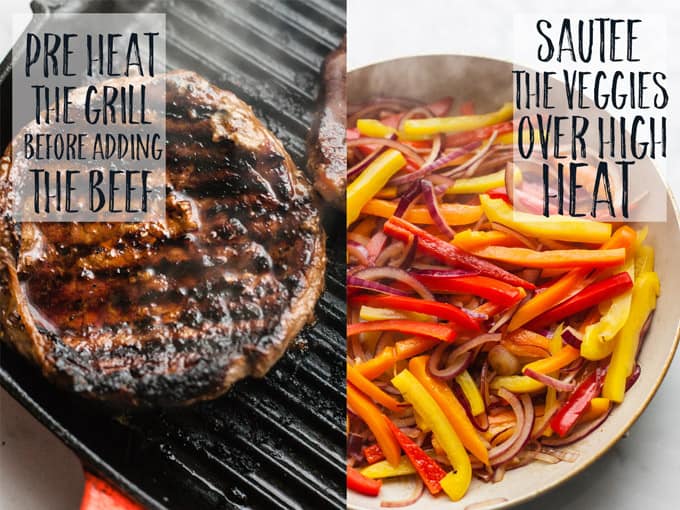 Once those 30 minutes are up for your marinade, it's grill time. Heat your grill pan and get it hot. REALLY hot.
Chef's pro tip: To add an extra smokey flavour, toast the tortillas in the dry grill pan before you grill the beef.
Place the beef in the grill pan and sear on high. It will get smokey. You may want to open the windows and turn on the fan. The beauty of skirt steak is how quick it cooks. But, that's also it's down side. It means that it can over cook in the blink of an eye. Sear the beef on the first side for about 6 minutes.
Chef's Pro Tip: The steak is ready to flip when it easily releases and comes away from the pan when lifted with tongs. If it doesn't then give it another minute or two and try again.
Once the steak is cooked then leave it to rest on a plate covered with foil before slicing.
These easy beef fajitas are loaded with bell peppers and onions and cilantro, and they hit all the weeknight dinner check boxes. They're:
Smokey and sweet
quick and healthy
delicious and filling
If you're looking for more simple and delicious weeknight recipes you can check out these spicy Korean noodles or this lemon chicken with asparagus!
Leave a rating and a comment letting me know how much you loved this recipe. Follow along on Instagram, Pinterest and Facebook for the latest recipes!
Spicy and Sizzling Easy Beef Fajitas
These easy beef fajitas will be a new family classic. Tender and juicy beef steak in a smokey and spicy homemade marinated. Grilled beef and veggies wrapped in soft tortillas with avocado and lime. Kitchen tested, family approved.
Print
Pin
Rate
Ingredients
1

pound

skirt steak or other quick cooking steak

2

Tablespoons

olive oil

1

red onion

thinly sliced

1

red bell pepper

thinly sliced

1

yellow bell pepper

thinly sliced

1

orange bell pepper

thinly sliced

6

flour tortillas

1

red chilli pepper

thinly sliced

1

avocado

sliced

1

bunch cilantro chopped
For the marinade:
¼

cup

olive oil

1

Tablespoon

cumin

1

Tablespoon

brown sugar

1

Tablespoon

Chilli Powder

¼

teaspoon

oregano
Instructions
In a mixing jug, combine all the marinade ingredients and whisk until incorporated. Place the steak in a shallow dish, so that it fits snuggly. Pour the marinade over the beef and set aside to marinate for at least 30 minutes.

While the steak is marinating, slice and cook the vegetables. Place the oil in a non stick skillet and heat on high. Add the peppers and onion and cook until the vegetables are tender, but still have a slight crunch. Place in the oven to keep warm while you sear the beef.

Heat a grill pan over very high heat. Toast the flour tortillas in the grill pan for about a minute each side. Once the tortillas are toasted, place the steak in the pan and grill on each side for about 5 minutes, or until each side is charred and smokey. Set aside to rest for 10 minutes before slicing.

Place the veggies and the sliced beef in a bowl to serve at the table along side the tortillas, sliced chillies, avocado, and cilantro.
Notes
Note 1. The marinade can be made a day (or several days) in advance and left in a container in the fridge ready for the beef.
Note 2. The beef can be marinated the night before grilling to add extra flavour. Simply place the steak and marinade in a ziplock bag in the fridge, or place in a shallow dish and cover with plastic wrap.
Nutrition
Calories:
634
kcal
|
Carbohydrates:
40
g
|
Protein:
31
g
|
Fat:
40
g
|
Saturated Fat:
7
g
|
Cholesterol:
71
mg
|
Sodium:
397
mg
|
Potassium:
975
mg
|
Fiber:
7
g
|
Sugar:
9
g
|
Vitamin A:
2985
IU
|
Vitamin C:
153.8
mg
|
Calcium:
88
mg
|
Iron:
5.8
mg