Hey and happy Friday! What's on your menu for world tapas day tomorrow? Oh. Not decided yet? May I suggest my new favorite tapas dish served alongside my new favorite wine? Yep. You guessed it. Croquetas de Jamon. These snack-size dumplings are the perfect tapas dish to make for World Tapas Day.
This Recipe is sponsored by Rioja Wine UK ♥
---
They're crispy on the outside, creamy and savoury in the middle and served alongside your favourite glass of Rioja they are beyond the perfect way to end the week and celebrate.
I absolutely adore drinking a glass of wine on a Friday evening, but my wine knowledge is been limited, to say the least. But, I know what I like. And I like Rioja.
So, pop quiz! How's your wine knowledge?
Did you know that Rioja is the region of Spain where this wine comes from and that a Rioja can be red or white?
It sure can. And it breaks down like this:
Red Rioja is a blend of Tempranillo, Garnacha, Graciano and Mazuelo y Maturana Tinta.
White rioja is a blend of Viura, Malvasia, Garnacha Blanca, Tempranillo Blanco, Maturana Blanca, Turruntes, Chardonnay and Sauvignon Blanc Y Werdejo.
But, I know, you didn't come here for all the wine knowledge, you came for the food. And the food is tapasssssss!!!! So, what do you pair with tapas? How do you know what wine to have with what food?
All great questions. Since we're food people, let's talk food first. These croquetas would be what I serve every weekend for the rest of the year if I could! They're so easy. Granted, you need to invest a bit of time to make them, but they are so worth it and your guests will love you for doing it!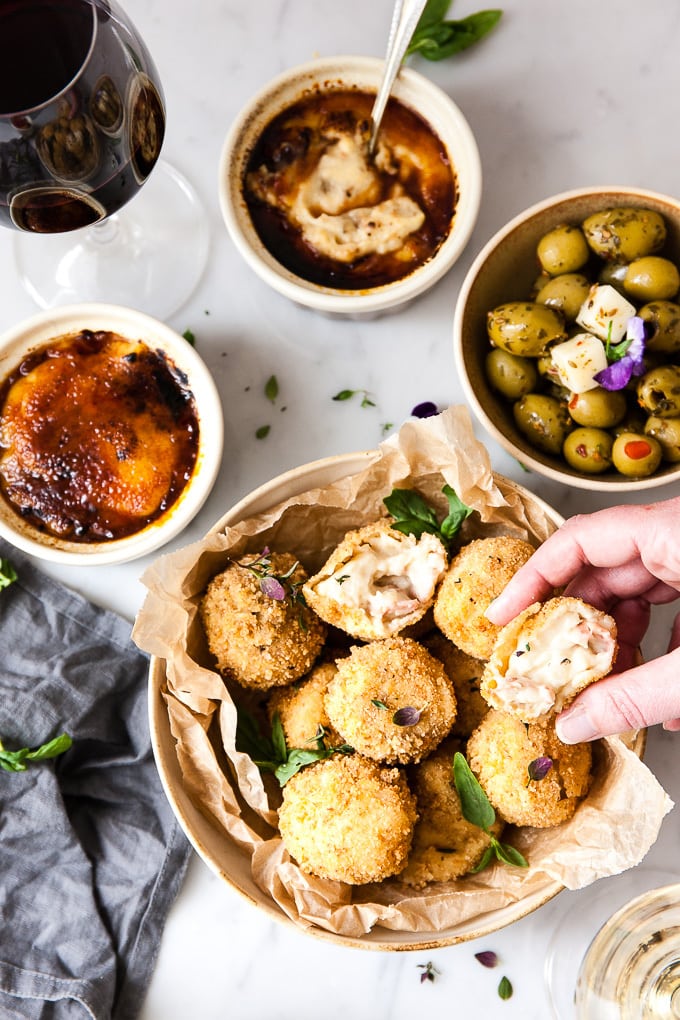 How to make Croquetas De Jamon
Sautee some serrano ham and onions.
Make a bechamel sauce like this one.
Leave to set in the fridge overnight. ← Like I said... investment of time, not effort.
Roll in breadcrumbs and shallow fry until golden.
Enjoy with white or red Rioja. They're both dreamy. White for me, red for Mr. T.
But, we're not done there. Because what about dessert, and other nibbles? Food people here, right?!
I paired these croquetas with some marinated olives spiked with cubes of manchego cheese and finished the whole affair off with some Crema Catalana!
And with Spanish tapas, goes Spanish wine. The beauty of Rioja, is that you can select what works for you. Love a light crips white? Go with an unoaked white Rioja.
Love a deep full-bodied red and have something to celebrate? Go with a Gran Reserva.
Let me tell you how I used to pick a wine.
Go to grocery store. Stand in wine aisle looking at aaaaall the bottles for 34987 hours. Pick the one with the prettiest label and hope for the best.
Those days are now over. I know that Rioja's have 4 different categorizations and they go like this:
Rioja- Low to no oak 1-2 years aging
Crianza- 1 year in oak, 1 year in bottle
Reserva- 1 year in oak, 2 years in bottle
Gran Reserva- 2 years in oak, 3 years in bottle
The mystery of what to expect is solved. In the mood for light and fresh go with unoaked. Want something with all the attitude... go for a Gran Reserva, and don't forge to try the ones in between. Because it's official. We're not only food people, we're now also Rioja people!
You can follow along with Rioja Wine UK on Instagram, Facebook and Twitter.
Thanks so much for reading and cooking along with me! If you make these bars or have a question, I'd love it if you left a comment and a rating. You can also follow along on Pinterest, Facebook and Instagram to see what we're eating, pinning and a little behind the scenes too!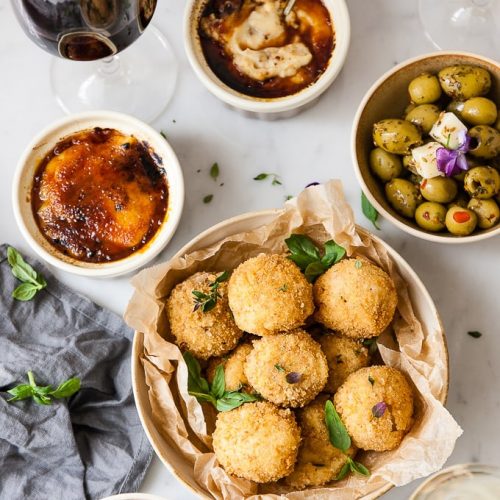 Croquetas De Jamón
The perfect Spanish tapas dish. These croquetas are delicious and easy to make.
Print
Pin
Rate
Instructions
1 Melt the butter in a pan over a medium heat and add the chopped onion and jamón serrano. Cook for a few minutes until the onion turns translucent but not coloured. Meanwhile, in a separate pan, bring the milk almost to boiling point and then set aside.

2 Add the flour to the onion and cook for 5 minutes, stirring, until the flour has toasted a bit. Add the hot milk little by little, whisking all the time, to make a thick roux. Keep going until you have added all the milk and you have a smooth and silky béchamel. When it comes back to the boil reduce the heat to low and add the nutmeg, salt and pepper. Leave to simmer for about 40 minutes, whisking to make sure it doesn't stick to the bottom of the pan. Taste and adjust the seasoning if necessary.

3 Line the bottom of a baking tray with baking parchment and then pour the béchamel into the baking tray. Spread it out and then immediately place a layer of cling film directly on top, making sure the cling film is touching the surface of the béchamel as this will stop a skin from forming. Transfer to the fridge to chill completely.

4 After 3 hours the béchamel should be firm enough to handle. Peel off the cling film, turn the béchamel out on to a floured surface and carefully peel away the baking parchment. Sprinkle with a little more flour and use a knife to cut the béchamel into strips and then small squares, about 4 cm square. Dust your hands with flour and roll these little squares into balls between your hands.

5 Beat the egg in a bowl and spread the breadcrumbs out on a plate. Dip each ball in the egg and then roll in the breadcrumbs before placing on a clean plate. You can chill these in the fridge at this point if you want to cook them later (or freeze them for next time).

6 Heat the oil in a large deep pan until it reaches 180°C. If you don't have a thermometer you can check whether the oil is ready by dropping a small square of bread into the oil – it should turn golden in about 30 seconds. Fry the croquetas in small batches until they are golden and crisp (this should take about 1½ minutes). Remove and drain on kitchen paper while you cook the rest.
Nutrition
Calories:
150
kcal
|
Carbohydrates:
12
g
|
Protein:
7
g
|
Fat:
8
g
|
Saturated Fat:
4
g
|
Cholesterol:
55
mg
|
Sodium:
247
mg
|
Potassium:
129
mg
|
Sugar:
4
g
|
Vitamin A:
300
IU
|
Vitamin C:
1.2
mg
|
Calcium:
97
mg
|
Iron:
0.9
mg