This tangy and fresh lemon drizzle cake recipe will be your new favorite dessert! This incredibly fluffy loaf cake combines the perfect balance of moist cake infused with zesty lemon flavor and a tantalizing drizzle of citrusy syrup. Whether you're a seasoned baker or a novice just starting out, this recipe will guide you step by step to baking perfection!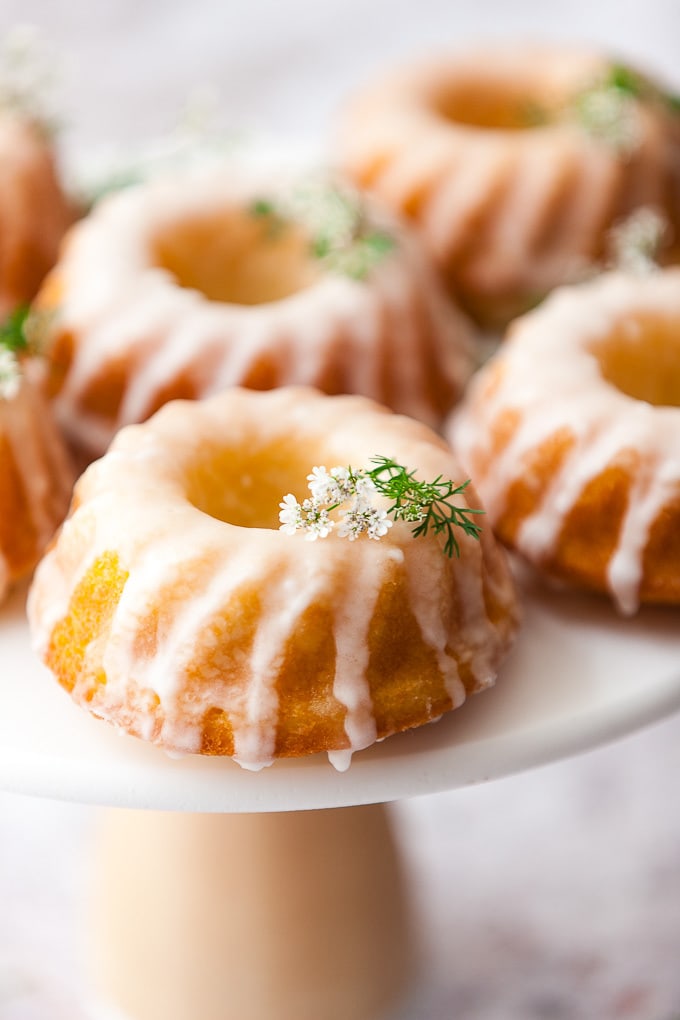 This lemon drizzle cake is also incredible served with some homemade lemon curd on the side. Lemon drizzle loaf also fits perfectly into a dessert buffet alongside no-bake lemon cheesecake, these lemon Dutch baby pancakes, or this blueberry olive oil loaf.
Jump to:
⭐️ Why You'll Love This Recipe
Classic British dessert Lemon drizzle cake is a classic British dessert that has been enjoyed for generations. It is an amazing and popular choice for afternoon tea, picnics, and other gatherings.
Easy to make Lemon drizzle cake is an extremely easy cake to make. All you need is one bowl and some basic ingredients. The steps are straightforward, so this makes it a great choice for beginner bakers. It follows the same baking principles as a pound cake.
Delicious The combination of the light and fluffy sponge cake and the sweet and tart lemon syrup is absolutely delicious. The lemon syrup adds a touch of acidity that balances out the sweetness of the cake.
Great way to use up fresh lemons If you have some fresh lemons on hand, lemon drizzle cake is a great way to use them up. The lemon syrup is made with fresh lemon juice and zest, so the cake will have a bright and fresh lemon flavor.
Beautiful cake You can dress this lemon cake up as dessert with fresh whipped cream and berries or serve this loaf simply glazed with lemon icing and serve for a snack or with tea or coffee.
🧾 Ingredients
You only need a few basic ingredients for making this simple lemon cake.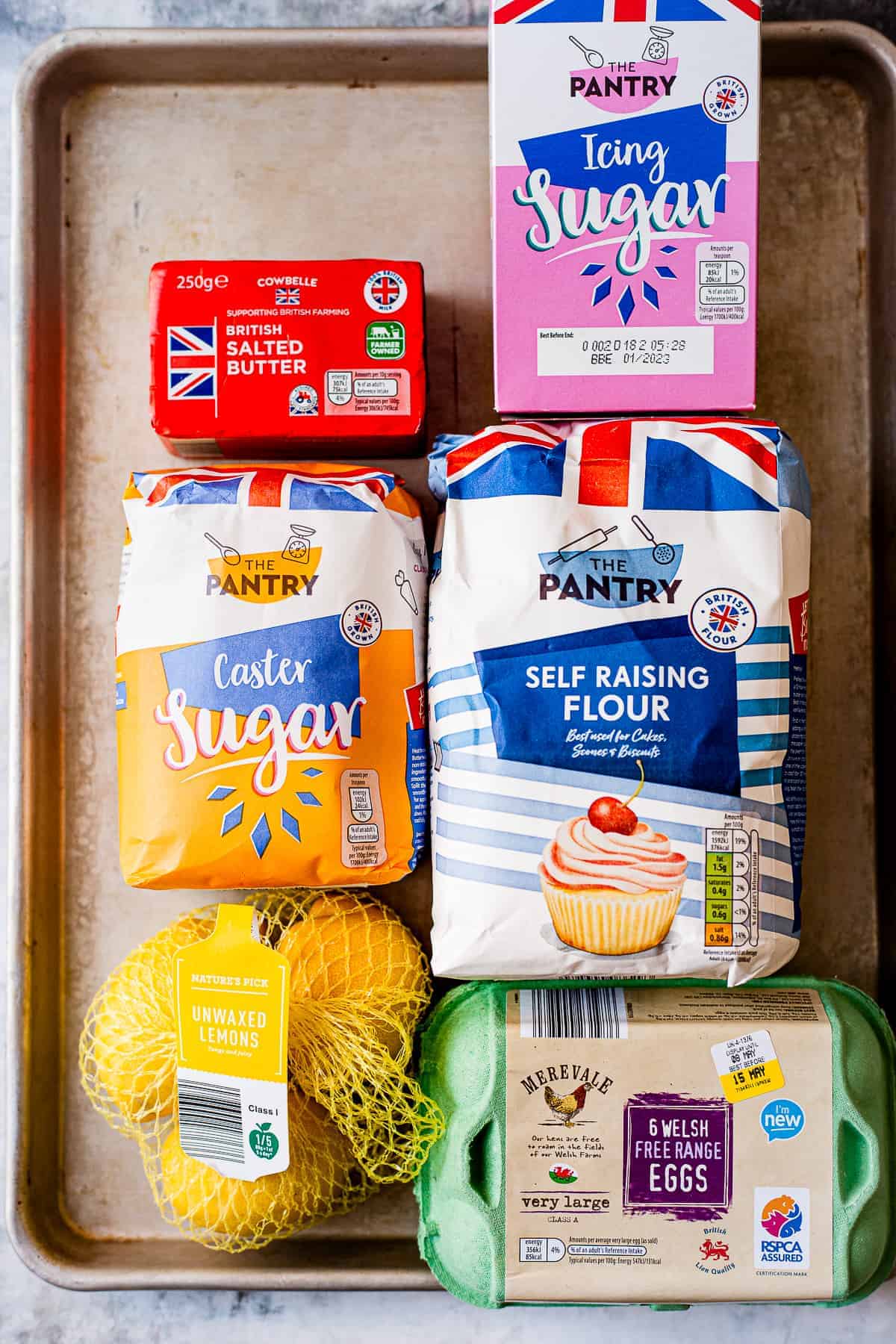 Lemons- large fresh and juicy lemons are best for this. Be sure to wash them before zesting.
Eggs- large and at room temperature work best for this recipe.
Sugar-granulated or fine sugar both work well.
Self-raising flour- if you don't have any you can make your own using all-purpose flour and baking powder. *see below for the perfect ratio for making this lemon loaf.
Butter- you can use salted or unsalted in this recipe, just be sure that the butter is very soft.
Icing sugar- this is for the lemon glaze. If your sugar is lumpy be sure to sift it so you end up with a smooth glaze.
See recipe card for quantities.
📖 Top tips for baking the perfect lemon drizzle cake
Use fresh lemons for the best flavor.
Make sure to preheat your oven to the correct temperature.
Do not overmix the batter.
Bake the cake until it is golden brown and a toothpick inserted into the center comes out clean.
Prick the cake with a fork before drizzling it with the lemon syrup.
👩🏻‍🍳 Making the fluffiest lemon drizzle cake step-by-step
Making a light and fluffy cake batter
Start by preheating the oven to 350ºF and grease and line your baking tin. I've made these as mini bundt cakes, but it's probably more convenient for you to use a 2lb loaf tin.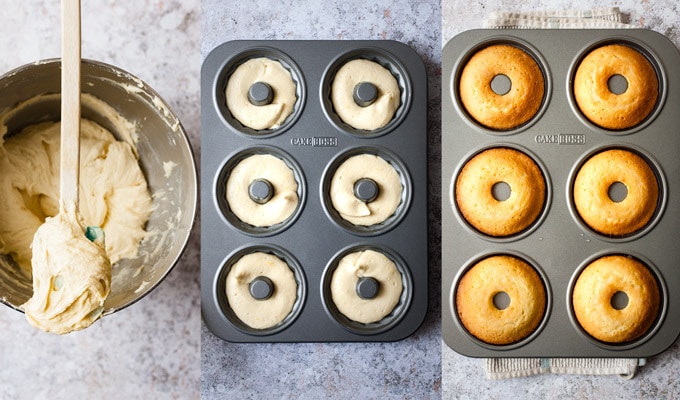 Creaming the butter and sugar
Start with very soft butter in the bowl of a stand mixer fitted with the paddle attachment and add in the sugar. Cream the butter and sugar for about 2 minutes, until it's light and fluffy and has become pale in colour.
Add the eggs in one at a time mixing after each addition. *The mixture may start to look split, but this will come back together once you add in the flour.
Making lemon cake batter
Once the eggs have been mixed into the butter and sugar, pour in the milk and sift in the flour.
Use a rubber spatula or wooden spoon to fold in the flour and add in the lemon zest. *Fold gently and only until the batter is just combined.
Baking moist and fluffy lemon drizzle
Spoon the batter into the lined baking pan and bake in the preheated oven for about 40 minutes.
The cake is done when it's golden and risen and a toothpick comes out of the center with just a few moist crumbs. It will also spring back when gently pressed.
Lemon drizzle syrup- the finishing touch
To make the lemon glaze whisk the lemon juice and the sugar in a small bowl until the sugar is dissolved.
When the cake is baked remove it from the oven and use a toothpick or skewer to poke holes all over. While it's still warm pour the syrup over the cake to soak in through the holes. Leave in the tin to finish cooling completely and let it soak up all the drizzle.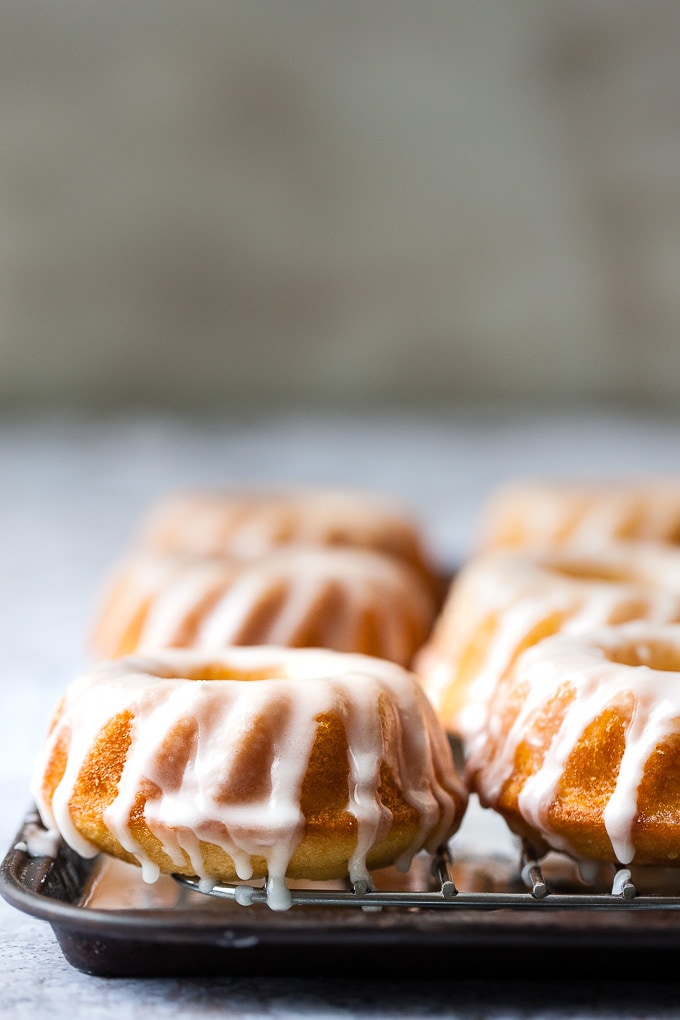 💡 Make your own self-raising flour
You can skip buying self-raising flour and sift 2 cups of flour with 4 teaspoons of baking powder to get the same results.
🍯 Storage
At room temperature: Lemon drizzle cake can be stored at room temperature for up to 2 days. Store the cake in an airtight container or wrap it tightly in plastic wrap to prevent it from drying out.
In the refrigerator: Lemon drizzle cake can be stored in the refrigerator for up to 5 days. The cake will keep its shape and texture better in the refrigerator, but it may become a bit dry. To prevent the cake from drying out, wrap it tightly in plastic wrap or store it in an airtight container.
In the freezer: Lemon drizzle cake can be frozen for up to 3 months. To freeze the cake, wrap it tightly in plastic wrap or aluminum foil and place it in a freezer-safe bag or container. When you are ready to eat the cake, thaw it overnight in the refrigerator and then let it come to room temperature before serving.
💡 Top tips for fluffy and moist lemon drizzle cake
Proper Baking Time and Temperature: Baking your cake for the right amount of time at the correct temperature is crucial. Over-baking is the leading cause of dry cakes. Use a toothpick or cake tester to check for doneness, ensuring it comes out with a few moist crumbs.
Use the Right Amount of Liquid: Make sure that you're using the correct amount of milk. Too much liquid can lead to a dense and heavy cake, while too little can result in a dry texture.
Let the drizzle soak in: Pour the lemon syrup over the cake while it's still warm to make sure that it gets absorbed properly.
❓FAQ
Can I use bottled lemon juice?
You can, but it's not ideal. Because the lemon flavor is the star of the show, it's important to make sure it's the best it can be. Fresh lemon juice and fresh zest are the best choice, but in a pinch this can be done with bottled lemon juice.
Do I have to poke holes in my drizzle cake?
Not pricking the cake with a fork before drizzling it with the lemon syrup can cause the syrup to seep through the cake and make it soggy rather than to soak into the cake and become moist. So, yes. You have to poke the holes!

If you tried this Recipe or any other recipe on my website, please let me know in the comments below. I love hearing from you. Also, please leave a star rating whilst you're there!
You can also follow along on Pinterest, Facebook, and Instagram.
Looking for more simple cake recipes? Try these:
Unbelievably Fluffy Easy Homemade Lemon Drizzle Cake
Soft and fluffy lemon drizzle cake! A simple homemade pound cake drizzled with citrus syrup and the bright lemon-y glaze. Perfect for afternoon tea, brunch or dressed up as dessert with berries and cream.
Print
Pin
Rate
Ingredients
1

cup

(

227

g

)

butter

softened

1

cup

(

200

g

)

caster sugar

2

cups

(

250

g

)

self-raising flour

2

teaspoons

(

2

teaspoons

)

baking powder

4

(

4

)

eggs

4

tablespoons

(

4

tablespoons

)

milk

finely grated rind of 2 lemons
Lemon drizzle syrup
¾

cup

(

82.5

g

)

granulated

caster sugar

juice of 2 lemons
For the Icing
2

cups

(

240

g

) icing sugar

¼- ⅓

cup

(

142.33

g

)

lemon juice
Instructions
Grease a 2-pound loaf tin and line with non-stick baking paper. Pre-heat the oven to 160°C/325°F/Gas 3.

Whisk the butter and sugar until very light and fluffy and pale in color. Add the eggs one at a time along with the lemon zest and milk. Scrape down the sides of the bowl after each addition.

Using a rubber spatula or wooden spoon gently fold in the flour and baking powder until the mixture is just combined. The cake batter will be light and fluffy with a strong lemon fragrance. Spoon the batter into your prepared baking tin.

Bake in the middle of the pre-heated oven for about 35-40 minutes or until the cake spring back when pressed lightly with a finger in the center and is beginning to shrink away from the sides of the tin.

Once the cake is removed from the oven, use a fork or a skewer to poke holes all over the top of the cake. Pour the lemon drizzle syrup over and allow to cool in the tin while the cake soaks up the syrup.
To make the lemon syrup:
Mix the lemon juice and granulated sugar in a small bowl to give a runny consistency. Spoon this mixture evenly over the cake as soon as it's removed from the oven.
To make the lemon glaze
Whisk the lemon juice and icing sugar in a small bowl until you have a drizzling glaze. Once the cake has cooled completely, turn out onto a wire cooling rack and pour the lemon glaze over the cake letting some drip down the edges of the cake.
Notes
The cake is baked when the top has risen, and the cake has turned golden and started to pull away from the sides. It will bounce back when gently pressed with a finger.
This cake is great for freezing and can be frozen for up to 3 months.
Nutrition
Calories:
571
kcal
|
Carbohydrates:
87
g
|
Protein:
6
g
|
Fat:
23
g
|
Saturated Fat:
13
g
|
Cholesterol:
127
mg
|
Sodium:
213
mg
|
Potassium:
175
mg
|
Sugar:
65
g
|
Vitamin A:
745
IU
|
Vitamin C:
6.1
mg
|
Calcium:
67
mg
|
Iron:
0.7
mg